Blue Star Marker Rededicated
In December, 2015, Lady's Island Garden Club rededicated the Blue Star Marker. It was moved to the new location on Sea Island Parkway. Here's the article that appeared in The Island News in their Dec 10-16 issue.
Click the image to enlarge it.
Honoring Those Who have Served Our Country
The Blue Star Memorial Program honors all men and women that serve in the United States Armed Services. This program began with the planting of 8,000 Dogwood trees by the New Jersey Council of Garden Clubs in 1944 as a living memorial to veterans of World War II. In 1945, the National Council of State Garden Clubs adopted this program and began a Blue Star Highway system that covers thousands of miles across the Continental United States, Alaska and Hawaii. A large metal Blue Star Memorial Highway Marker was placed at appropriate locations along the way.
---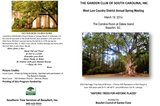 Lady's Island Garden Club designed the program for the West Low Country District Meeting of the South Carolina Garden Club.
Click here to view the Program (PDF)
---
Lady's Island Garden Club 40th Anniversary Celebration
Lady's Island Garden Club celebrated its 40th year of service to the Beaufort area at the lovely home of Edie Rodgers on Friday, December 6th 2013. Pictured above left, our oldest Charter Member Vi Hawley (97 years young) and her son, Wayne welcome our newest club member, Terri Jones. At right are our other two Charter Members – Lee Stockell and Edie Rodgers with the presentation rose bouquet presented to each of the founding members in appreciation of their commitment to the establishment of LIGC, and their continuing support for all our projects over the past 40 years.
Lady's Island Garden Club was founded in 1973 and became a federated club in the spring of 1974 joining the Beaufort Council of Garden Clubs, West Low Country District, Garden Club of South Carolina, the South Atlantic Region and the National Garden Clubs, Inc.
Through the years LIGC has worked with our community and other area garden clubs in promoting educational opportunities through local schools and the Beaufort Boys & Girls Club. We have partnered with the Historic Beaufort Foundation, decorating homes for fundraising tours throughout the years, designed Mother's Day and Thanksgiving tray favors and floral arrangements for area assisted living facilities, nursing homes and the Naval Hospital. We sponsored a Blue Star Marker on the Sea Island Parkway and recently led in its refurbishment. Several trees have been planted for Arbor Day celebrations. We maintain plantings around the 'Welcome to Lady's Island' highway sign coming from the city of Beaufort. As a Club we adopted two garden areas in the Beaufort National Cemetery as part of the BCGC project. For several years our members have provided pajamas for CAPA (a domestic anti-violence haven program), Christmas Wreaths Across America and 'Born to Read' children's book program. We also give financial support to several organizations including Camp Wildwood sponsoring a camper each year. Starting in 2007-2008 members, under the leadership of Cecile Dorr, developed the Beaufort Tree Walk in the Historic Old Point, in conjunction with our designation as a 'Tree City USA'. We identified and mapped over thirty significant specimens, assembled an informative brochure and gave the first invitational 'Walk' in May 2008. This project has won awards both locally and statewide since its inception. The self-directed tour booklet is available free at several locations around town.
Because gardening is all about hard work, successes and failures, two of our charter members, Lee and Edie, created our Anniversary theme – 40 Years and Growing – 'Watering, Weeding and Weeping'. As a Club, LIGC plans to continue all of the above and develop other ways to bring the enjoyment and challenges of gardening to others.