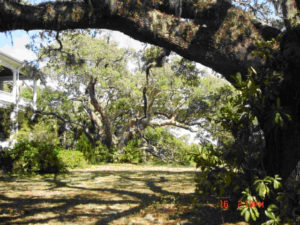 Living in the Low Country of South Carolina, especially in Beaufort County, we are blessed with a diversity of beautiful trees. Lady's Island Garden Club developed and initiated the Beaufort Tree Walk in the Historic Old Point of the city. Beaufort had already received the designation as a 'Tree City USA'. Our club identified, mapped, and re-searched over thirty significant specimens of trees in the walking area of historic Beaufort and created an informative brochure for the community and visitors to the city. The first Beaufort Tree Walk was in May 2008.
Now in the eighth year, the Beaufort Tree Walk is continuing to provide the community and the many tourists who come here with a beautiful and educational walk through historic Beaufort, while learning about, and enjoying, our trees.
Each year many visitors and youth groups have enjoyed the walk. To enhance the visitor experience, the club is gradually replacing the original arboretum signage with a more permanent sign for each tree. This project will be on-going to complement and enhance our tree walk for visitors in the future.
In addition to the signage a complete revision of the current Beaufort Tree Walk booklet will be done this year. Also, an update of the same information will be posted on the Lady's Island Garden Club website (www.ladysislandgardenclub.com).
The booklets are available at the Chamber of Commerce Visitor's Center and Historic Beaufort Foundation as well as area hotels and other places in the town and are free to the public.
The members of the LIGC look forward to maintaining this wonderful gift to our community and the many visitors who come here.
Kindly submitted,
Cecile H. Dorr,
Co- Chair Tree Walk Committee, LIGC
A Self-guided Tour of Beautiful Trees developed by the Lady's Island Garden Club
Click here for the Tree Walk Update 2016 – 2017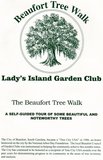 Click here to open the complete Guide Book
You can click on the following links to view the individual pages of the guide book. When the window opens, expand it to full screen mode for the most readable view. After you open the page, you can print it by clicking on "File" on your browser menu, then click "Print." You can print all of the pages and collate them to create your own Beaufort Tree Walk guide book.